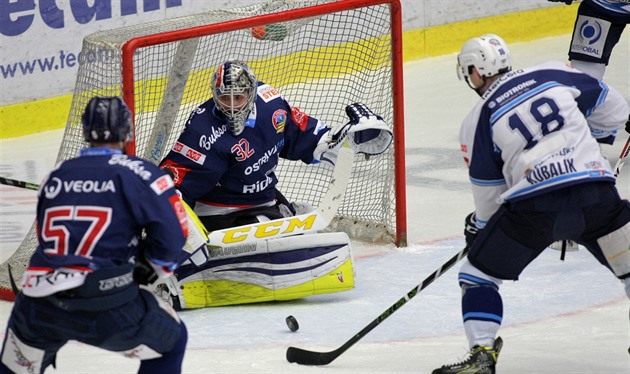 After the embarrassing introduction on both sides, Vladimir Ruzicka was on the first occasion, but Chomutov's striker only scored Maxwell's goal. You will not, you will get…Immediately in the subsequent counterattack, the trio of Orsava-Klepis-Žejdl broke out in advance. The puck was exchanged by everyone, so the heads of the Pirate defended their heads, and Jakub Orsava conveniently pulled the reel behind Lac's back.
The Chomutovs played twice in the first third, but none of the chances were taken. On the other hand, it was possible to raise Pospíšil with Stříteský just before the first siren, but the second goal scored the opponent's goal.
The second twenty minute started with the opportunities of both teams, but Juraj Valach Chomutov was able to celebrate.David Kaše was injured by the blue one, including Maxwell, who interfered with the attacking player and scored 1: 1. A series of Pirates' chances followed, supported by several Mlada Boleslav exclusions.
When the home team at the end of the second period played the power play, it was the worst for them to do. Michal Vondrka took the puck, gradually crossed over two bekers and shot a swing through the puck through the American goalie Boleslav. Chomutov's hope for the fifth game started to get sharper contours.
At the start of the last twenty minute he had his own Štich in his own weakness, with his seemingly innocent attempt Laco eventually had a lot of problems. Despite Chomutov's bullet, none of the attempts ended in the net.On the other hand, after a good passport, Lace was alone with Urban, but the Piráti goalkeepers pushed him at the key moment.
Mladá Boleslav: Maxwell – Stříteský, Jan Hanzlík, Voráček, , Holub, Štich, from the 21st addition, Hrdinka – Hyka, Musil, Lenc – Orsava, Klepis, Žejdl – M. Látal, Urban, Pacovsky – Jonak, Vampola, Pospíšil. Coaches: F.
Chomutov: J. Laco – Rutta, L. Chalupa, Flemming, Dlapa, Valach, J. Mrázek, Skinner – Skokan, Huml, Tomica – Vondrka, V. Růžička ml., Sklenář – D. Kaše, Kämpf, Koblasa – Raška, Šťovíček, Poletín. Trainers: V. Růžička st., J. Šťastný and Martínek.
We are preparing details.