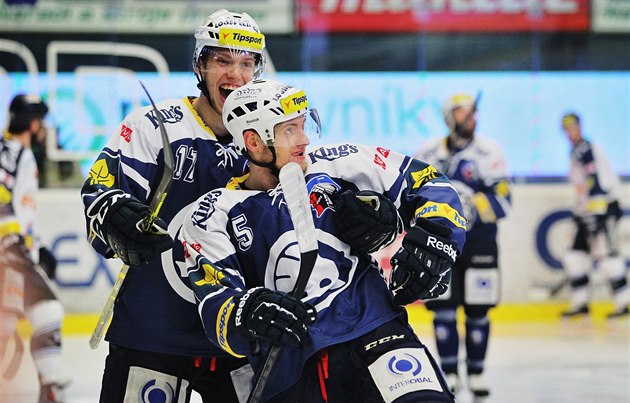 "I watched the match after OnLajn eye on, but I did not write myself Frančík," smiled HC Skoda defender Jakub Jerabek Frenchman's former teammate.
"It was a relief to us, I will say the opposite. Still, we must focus primarily on themselves, because the last match from our side was not right, "she conceded the second most productive defense Extraliga.
In the remaining two rounds and Plzen can be clamped to a far merrier challenge – even try slip into the elite sixes and have some involvement in the quarterfinals of the playoffs.
on Friday from 18.20 hours in the visitors' home arena in Pardubice, will end on Sunday, an essential part of Vitkovice. And the situation around the sixth bar is nicely cracked: 6. Zlín (today playing on the ice of the sovereign leader from Třinec) 75 points, 7. Pilsen 73, 8.Pardubice 73.
"They are nerves, just like every season. It's high, but it does not matter. There is still something to be done, there is still a motivation and I take it, "responded Stoic calm Pilsen goalman Matěj Machovský. In 21 years he was in the last scrolls, when Škoda oscillated between the desire for six and the fear of falling down, lay a great press. "But the main pressure you have to make man on yourself. Do not perceive the power of the environment, to solve his problems and to concentrate on his performance, "offered his approach.
With Pardubice, Plzeň has a better balance for the moment (2: 3, 5: 1, 4: 3p). statistics in final billing can play a role.
"The last couple of matches did not work out so they can do everything here.It will be high and will play again as a play-off. Especially careful in defense, everyone will want to avoid unnecessary fouls. And we have to work on the power games, because they are just bad now, "said Ladislav Čihák, assistant to the main Pilsen coach Michal Straka.
The attacker Schleiss outlawed Škoda and injured his shoulder on Tuesday's match in Olomouc. Pulpan also has trouble with the knee, on the other hand, the next beak Moravčík should be available. "The boys themselves feel the six is ​​too close. We have 50 games, and we can improve the season in the last two.And when we have a chance, we will do everything for it, "said Čihák.
The ideal scenario for today is given – when Plzeň is going through Pardubice and Zlín will get the maximum point in Třinec, Škoda will get to the sixth position. And on Sunday in Vítkovice everything will be in his own hands. "We have to do what we can – win two wins. Then proceed with the will of God, we will see from what position we will go to the elimination part, "added Jeřábek.